This article was written in 1986, the night when the author found out that Richard Manuel had died. It originally appeared in Peter Stone Brown's regular column, The Other Side in a paper called the Welcomat in Philadelphia, in the March 12, 1986 issue.
Copyright © Peter Stone Brown, 1986, 1998.
---
It was many years ago, July. Psychedelic music was still happening. "After Bathing at Baxter's." The Doors were huge. Hendrix alive. I brought home the strangest-looking record on Capitol with what appeared to be a young child's painting on the cover. The back had a color shot of a stupid-looking pink house and in huge, ugly black letters read, Music from Big Pink.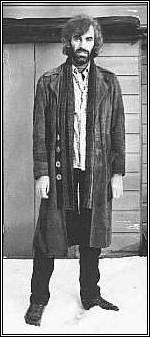 All I knew about the musicians was that I'd seen them back Bob Dylan three years before at his first electric shows. They'd toured with Dylan all over the world, but nothing had been heard from them since his motorcycle wreck.
The music on that record by The Band was like nothing before or since, and the first voice you heard was Richard Manuel's. The song and the sound were heavy: "Tears of Rage, Tears of Grief." Richard Manuel and the rest of the group gave it everything they had.
As singer Happy Traum wrote in Sing Out! magazine, it was "so intense that when you first heard it, you had to stop halfway through and put the needle back to the beginning, just to make sure you got it all." And that was just the opening number.
Article at The Band website